WELCOME RECEPTION                                                          Sunday, July 07th
19:00 – 21:00   @Seminar room(1st floor) at R-CCS
GROUP PHOTO                                                               Wednesday, July 10th  
12:30 ~ Before lunch @ the Hall in Kobe University
SOCIAL EVENT & DINNER                                                          Wednesday, July 10th  
IKUTA SHRINE *The website is only available in Japanese
#We have chartered 3 buses available from R-CCS to Ikuta Shrine.(One way only)
The last bus will leave at 18:10 from R-CCS.

18:45 ~ Worship / Mikomai
*It is recommendable that the participants not to wear revealing clothes such as flip-flops, shorts or sleeveless shirt, as this is kind of ritual.
19:15 ~ Dinner
The Ikuta shrine is located in Sannomiya, the heart of Kobe. It is one the oldest shrines in Japan. The shrine dates back to the year 201 AD, and has a long history of over 1800 years. It has been known to have enshrined a deity called Wakahirume-no-Mikoto. Today it is known among the Japanese for its spirituality as well as match-making and is a famous sightseeing location of Kobe.
Mikomai is a type of dance performed by "miko" (shrine maiden) in a "Kagura" performance (a sacred music and dancing performance).
The dance is in essence very simple. The dancers move around in front of the shrine singing songs of worship to the accompaniment of various instruments (flute, drums etc.). They are clothed in a CHIHAYA (a white robe) over a red HAKAMA (trouser-like skirt) and carry a bell.
DINNER at Kobesankan                                                                Thursday, July 11th  
Enjoy a Chinese buffet at Kobe Sankan!! (18:30 ~ 20:30)
3 minutes walk from Shimin Hiroba (Convention Center) Station [P06] on the Port Liner, which is the second station from K Computer Mae [P08] <JPY210/one way>. (The 5th station from Sannomiya station [P01]  <JPY250/one way> )
It is located on the 1st floor in The Kobe International House.
 We will meet there at 18:30.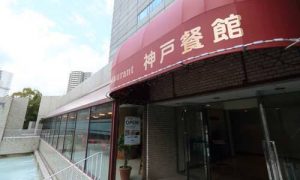 LUNCH at KOBE ANIMAL KINGDOM                                                          Friday, July 12th  
Only 5min. walk from R-CCS, Kobe Animal Kingdom is a theme park where you can interact with many different animals, birds and flowers. The giant glass greenhouse is a multi-weather facility in which you can have fun even when it rains.