Presentation Guidance
Deadline
Registration & Abstract Submission Deadline
Oral submission Deadline:

Jan 6, 2017

*extended
Poster submission Deadline:

Feb 1, 2017

Registration Deadline:

Feb 16, 2017
Submission Procedure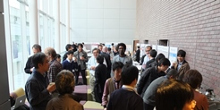 Register by online system (Registration Page)
Abstract must be written in English, (LaTeX expressions can be used) and should not exceed 400 words. If you want to include figures in the abstract, please contact the Registration Desk.


(NOTE: All abstracts will be included in the symposium proceedings.)
Oral Presentations
We invite submission of abstracts for contributed oral presentations.
Abstracts are encouraged to address the meeting theme "Emerging numerical techniques for exascale and post-Moore era", but doing so is not necessary.
Contributed oral presentations are scheduled for 20 minute timeslots.
15 minutes are allowed for each presentation plus 5 minutes for questions.
Applications to contributed talk may be moved to poster presentations.
Poster Presentations
Poster size: A0 portrait-shaped (841mm width X 1189mm height)
Poster session: 17:00-18:00, Feb 23
Place: Integrated Research Center of Kobe University, Entrance Lobby
Please set up your poster before the Poster Session starts.
Thumbtacks are available on the board.
Please take off your poster by the end of the symposium on February 24.
A0 landscape-shaped posters are unacceptable.